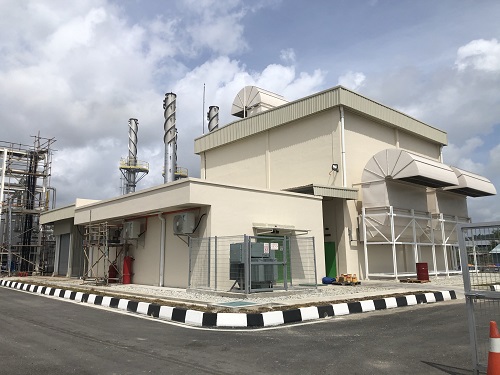 Kawasaki Heavy Industries, Ltd. announced today its delivery of two KG-12 Kawasaki Green Gas Engines to major Malaysian chemical company Malay‐Sino Chemical Industries Sdn. Bhd. The KG-12s are being utilized in a gas engine cogeneration system to be installed by the chemical company. Malay‐Sino Chemical Industries Sdn. Bhd. is using the gas engines in an in-house power generation facility, which started operation in February 2021, to supply plant facilities with electricity, steam, and hot and cold water.
The order for this system was placed with Malaysian EPCC firm Sime Darby Energy Solutions Shd. Bhd., and Kawasaki supplied, and provided the advisory service of installation & commissioning for the two KG-12 Kawasaki Green Gas Engines which serve as the main system equipment as well as the generator equipment. The KG-12s have a rated generation output of 5.2 MW each (10.4 MW combined).
Malaysia is currently pursuing the introduction of cogeneration systems with the goal of making more effective use of domestically produced natural gas. The newly built system is the first example in Malaysia of a high-efficiency cogeneration system utilizing Kawasaki green gas engines. In the future, the nation hopes this system will serve as a positive example to promote the further spread and dissemination of such systems.
Efforts toward achieving low- and zero-carbon-emission societies are accelerating on a global scale. As demand grows on the energy market for ever-higher efficiencies, Kawasaki is leveraging the advantages of its gas engines, gas turbines and a diverse range of other energy products to actively develop its energy and environmental business. Through these efforts, the company is contributing toward the building of sustainable societies for the future while also responding to customer needs by providing comprehensive energy solutions that include both generation of electricity and utilization of waste heat.
Overview of the Kawasaki Green Gas Engine Power Generation Facilities
| | |
| --- | --- |
| Model | KG-12 |
| No. of cylinders | 12 |
| Rated generation output | 5,200 kW |
| Electrical efficiency | 48.5% |
| NOx emissions | Max. 200 ppm (converted at 0% O2) |
Related links:
Corporate brand video "Changing Forward" (Gas Turbine & Gas Engine ver.) :
https://www.youtube.com/watch?v=1w_qPnViglM
(Originally published on KHI, Japan)