About Kawasaki Gas Turbine Asia
Kawasaki, working as one for the good of the planet
Respond to our customers' requirements.
Constantly achieve new heights in technology.
Pursue originality and innovation.
Kawasaki Group Management Principles
Kawasaki Group Management Principles
As an integrated technology leader, the Kawasaki Group is committed to providing high-performance products and services of superior safety and quality. By doing so, we will win the trust of our customers and the community.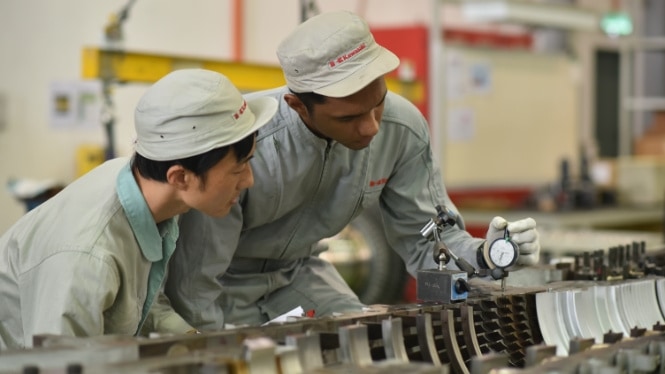 The importance of corporate social responsibility (CSR) permeates all aspects of our business. This stance reflects the Kawasaki Group's corporate ideal of harmonious coexistence with the environment, society as a whole, local communities and individuals.
The Kawasaki Group's corporate culture is built on integrity, vitality, organizational strength and mutual respect for people through all levels of the Group. We nurture a global team for a global era.
Enhance corporate value based on the guiding principles of "selective focusing of resources," "emphasis on quality over quantity," and "risk management."
Kawasaki Group Action Guidelines
Always look at the bigger picture. Think and act from a long-term, global perspective.
Meet difficult challenges head-on. Aim high and never be afraid to try something new.
Be driven by your aspirations and goals. Work toward success by always dedicating yourself to your tasks.
Earn the trust of the community through high ethical standards and the example you set for others.
Keep striving for self-improvement. Act on your own initiative as a confident professional.
Be a part of Team Kawasaki. Share your pride and sense of fulfillment in a job well done.
Kawasaki Gas Turbine Asia (KGA) started its presence in Malaysia as one of the division of Kawasaki Sunrock Sdn Bhd (KSSB) in the year of 2000. KSSB was the franchise holder / sole importer / assembler / distributor for Kawasaki motorcycles, Jet Skis (Personal Watercraft), Power Product, Spare parts and accessories in Malaysia and Brunei.
On 12th July 2005, Kawasaki Gas Turbine Asia Sdn Bhd was incorporated in Malaysia as a subsidiary company of Kawasaki Heavy Industries Ltd (KHI), Japan.
With its Headquarter in Shah Alam, Selangor, Malaysia, KGA is focused on sales & marketing, installing, commissioning, servicing, repairing and overhauling of Industrial Gas Turbine Generator, Gas Engine Generator and Thermal Engineering products (Once Through Boiler, Absorption chiller) in South East Asia, South Asia and Oceania markets.
KGA together with its dealers and partners in the region are capable of providing reliable, economical and comprehensive solution for Combined Heat and Power (CHP) system, also known as Cogeneration (Cogen) system. We are experienced in providing feasibility study and optimized recommendation of CHP or Cogen for our clients, we are competent of providing assistance for engineering turnkey proposal for those feasible projects, we are expert in installation and commissioning of CHP or Cogen equipment at site.
Our KGA premises in Shah Alam houses the State of the Art Overhaul and Testing Facilities for Gas Turbine Generator. All our 100% Japan trained Technical Advisors are certified to perform overhaul and testing of Gas Turbine Generator locally. They are also trained to perform after-sales scheduled service/ maintenance, they are qualified to carry out inspection, troubleshooting and repair of all Gas Turbine Generator, Gas Engine Generator and Thermal Engineering equipment.
KGA has its strategic warehouses located in various countries in the region, this ensures the quick availability of important spare parts for all our overhaul activities, scheduled maintenance as well as troubleshooting tasks in the region.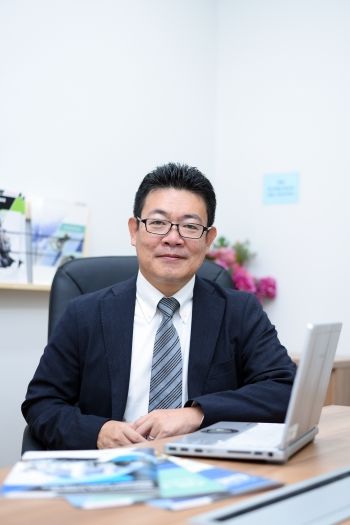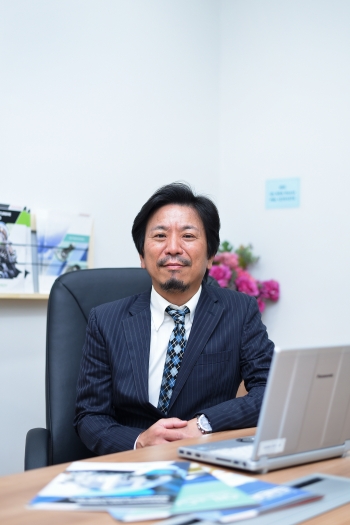 Technical Director of KGA
Message from the Management
Kawasaki Heavy Industries, Ltd. made its presence in Malaysia in early 1980 with an energy solution business in providing Gas Turbine Cogeneration systems to our business partners in Asia Region. Kawasaki Gas Turbine Asia Sdn Bhd (KGA) was established in 2005 and has taken a major step in the energy solution business in Malaysia and other Asian countries.
In addition to our well accepted gas turbine sales and maintenance services, KGA has also launched gas engines and boilers with excellent back-up maintenance services. As a comprehensive energy solution provider, we are optimally suited to meet the needs of customers in the various industries.
KGA is committed to take up the challenges of reducing carbon dioxide and protect the beautiful global environment for the future generations. Kawasaki's high performance, high efficiency, and highly reliable energy equipment provides energy cost reduction and efficient use of energy that is friendly to the global environment.
Kawasaki, working as one for the good of the planet.
Our group mission statement aptly states that Kawasaki Gas Turbine Asia and its employees are most willing to work together with you as a partner in contributing to the well-being and prosperity of our Asian people and society.
Come, join us and be part of us. Let us work hand in hand to protect our beautiful global environment with Kawasaki Gas Turbine Asia.
We welcome you to visit our website and share our common values in business.